The Pool & Hot Tub Alliance is dedicated to helping people live healthier lives through aquatics. Step Into Swim, in partnership with Every Child A Swimmer, is committed to creating more swimmers and providing safe swim education. By donating to this campaign, you can make a difference in the world, help create more swimmers, and grow the aquatic industry!
Did You Know? Learning to swim can reduce the risk of drowning by 88% for 1-4 year olds who take formal swim lessons.
Our Partners and Donors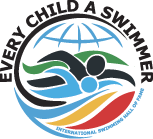 The Step Into Swim™ Campaign would like to thank our donors, including our major founding partner Every Child A Swimmer. They have generously given the gift of swimming lessons across the country. You, too, can inspire and change the lives of others by donating. Help provide swim lessons and create more swimmers today!