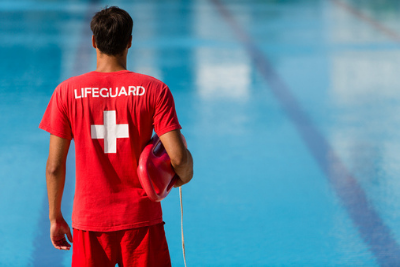 While most people think of backyard and community pools come summer swim season, the truth is swimming doesn't have an off season. Indoor pools are a great resource for children and their families year-round without the pressure of navigating around the weather.
No matter the setting, swimming safety best practices still apply. Step Into Swim offers these top safety tips for indoor swimming.
Enact multiple layers of protection. Any body of water poses a risk, especially for children under 5 years of age. Constant adult supervision is the first and best way to prevent accidents, though it is important to have other layers of protection around indoor swimming pools -- such as life jackets. Do not rely on water wings, pool floats or other inflatables to keep children protected.
Assign a water watcher. Designate an adult water watcher when in group settings and keep a close eye on children around the water. Assign adults to take shifts, which may minimize distractions. While many indoor swimming pools have lifeguards on duty, do not rely upon a lifeguard to supervise a child. Children should never swim alone, even experienced swimmers.
Keep toys away from water. Be mindful of toys around swimming areas. A child playing with toys outside of the water may be distracted and could accidentally fall in. Similarly, a child could reach for a pool toy while it is in the water and accidentally fall in.
Only practice safe swimming behaviors. Teach children safe water practices, such as entering the pool feet first, walking instead of running, and staying away from the deep end if not an experienced swimmer. Additionally, children should not engage in extended breath-holding activities underwater as these types of games are dangerous.
Sign up for swim lessons. Parents are encouraged to sign children up for swim lessons at a local swim school, as learning to swim can reduce the risk of drowning by 88% for children ages 1 to 4.
Be ready in case of an emergency. Even if children already know how to swim and can pass a swimming competency test, parents and caregivers should still know how to respond in an emergency. Keep appropriate supplies on-hand, such as a charged cell phone, first aid kid and life jacket.
Follow pool rules. Indoor pools follow specific safety protocols and often have signs posted around the facility to maintain safety. Adults and children alike should take note of a pool's rules, which could include designated swimming hours, food and beverage best practices, and preferred water behaviors.
By following the above safety tips, caregivers can ensure their families have fun in the pool while staying safe.