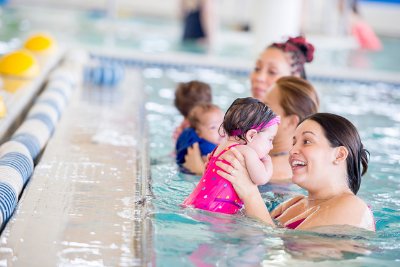 It can be tough to know the 'right' time to start swimming lessons for your child, or the 'right' questions to ask. How young is too young? Where do I find swim programs in my area? Is swimming safe for young children? What about my child?
Let's start by looking at the facts. Drowning deaths are highest among children ages 1-4, so the sooner the better when it comes to teaching kids to swim. The American Academy of Pediatrics recommends children learn to swim around 1 years old, and anyone over 1 (including adults, parents and caregivers) should learn to swim as an added precaution. No parent wants to think about their child in an unsafe situation in the water, but the good news is swimming lessons can reduce the risk of both fatal and non-fatal drownings by 88%!
The safest way to learn to swim is with an experienced and certified instructor. Parents can rest assured that their children are safe in the hands of lifeguards and instructors who have completed hours of training and are CPR certified. For those who want to get in on the action, many aquatics clubs and gyms offer parent-child classes for infants and toddlers; plus, swim facilities usually offer parents an opportunity to watch their child's swim class from the pool deck as their little ones get stronger and stronger with each lesson. Learning to swim at an early age emphasizes the importance of water safety to children—something they will carry with them throughout their lives.
Learning to swim has multiple benefits aside from safety and drowning prevention. Getting involved in swim lessons allows children to gain valuable social skills, explore a healthy outlet, find an exercise they enjoy, and uncover their talents. They might pursue the swim team to find they're exceptionally fast at backstroke, but also discover an affinity for sports, the aquatics community, or leadership stemming from the examples of their instructors and coaches. Who knows, maybe they will grow up to be a professional athlete and follow the footsteps of Olympic swimmer Rowdy Gaines, who leads the Step Into Swim program.
Step Into Swim is dedicated to spreading water safety awareness and making swimming lessons accessible to children all over the country.
To learn more about our mission to create more swimmers, click here and be sure to follow safe swimming tips on our social media channels. To find a swim class near you, check out the link here.