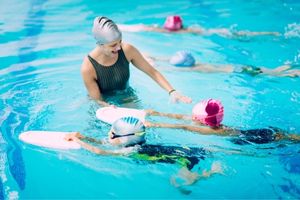 Congratulations on scheduling swim lessons for your child! Learning to swim saves lives, which means you've taken an important step to ensure your child has the skills and confidence to stay safe in the water. You've registered for a class, gotten all of your child's needed essentials (i.e., swimsuit, towel, etc.), and figured out scheduling – now what? Make sure you know what to expect before you head to the pool.
Familiarizing yourself with the program plan can help manage overall expectations. Once you've found a credible learn-to-swim program with certified instructors, confirm the lesson details. While the instructor will take on the teaching role, it's not uncommon for parents to get involved depending on the child's age and comfortability in the water. Take note of the lesson format beforehand and talk with your child, as appropriate, about what to expect.
Many programs will cover basic swimming skills – floating on your back, learning to kick, getting in and out of the water safely, blowing bubbles – though program details like curriculum, duration of class and size of class vary by location and instruction. The best and easiest way to learn about any upcoming swimming lesson is to contact the licensed swim instructor and ask them what their lesson plan entails.
Establishing trust between you, your child and the instructor is crucial to the success of the swimming lessons. The first swim lesson is often a baseline to establish a child's ability and comfort in the water, start to build a relationship with the instructor, and create a learning pace that will benefit the child. In the first "getting-to-know-you" lesson, instructors may first follow a child's lead to play in the water and help them get used to their new learning environment.

Being encouraging can help make your child feel at ease. Your little one should feel encouraged and supported by you and the instructor. It's common for children to be unsure about learning a new skill in a new environment. Give them time to acclimate. Remember that the goal is to keep lessons safe, easy and fun. Yes, it can be all three! Talk positively about learning to swim before and after the lessons, and give your child the opportunity to communicate their experience.
Learning to swim from a qualified instructor reduces the risk of drowning by 88% among children ages 1 to 4, though it is a lifesaving skill at any age. Learn more about learn-to-swim providers here.