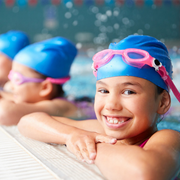 In addition to being a lifesaving skill, learning to swim comes with its perks and benefits. As Olympic swimmer and swim education advocate Rowdy Gaines said in his Wall Street Journal piece, "Being in the water is good for both the body and mind." Many people would agree, especially when you consider that swimming is the fourth most popular sports activity in the U.S. and that pool installations have risen since the pandemic.
What gives swimming its appeal? Here are the top reasons to learn to swim.
Learning to swim saves lives. Learning to swim from a qualified instructor reduces the risk of drowning by 88% among those ages ages 1 – 4.

Learning to swim can improve health and wellness. The CDC reports that water-based exercise, such as swimming, can help those with arthritis improve their joints, boost moods, decrease anxiety, improve quality of life, and much more.

Learning to swim helps decrease the already-too-high drowning rate. Drowning is a serious public health issue. It is the leading cause of death for children ages 1 to 4 years old, and about 4,000 people drown in the U.S. each year. The solution? Ensuring more people, particularly children, know how to swim safely.

Learning to swim may foster a love of swimming and water sports. Swimming is one of the top five sports activities in the U.S. Learning to swim introduces people to the positive physical and mental benefits that come with the activity, bolsters their confidence and opens their world to an underwater oasis.

Learning to swim creates potential career opportunities. Passion can strike anywhere...just ask those who have made a career in aquatics. Lifeguards, swim instructors, swim coaches, pool builders and designers, and the list goes on. For those who have an affinity to the water, a rewarding career in aquatics is something to consider.
Fortunately, there are many learn-to-swim providers across the country ready to help others jump into the water safely. From local Boys and Girls Clubs and YMCAs to community pools, qualified learn-to-swim providers provide much needed swim education to empower the next generation of swimmers. Learn more about swim providers here.