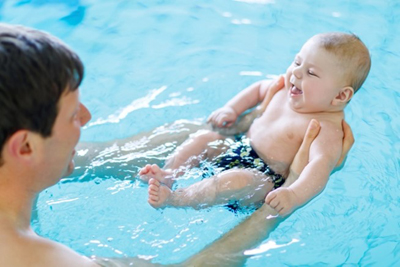 Many people are working toward goals they've set for themselves and their families. Why not consider enrolling your child in local swimming lessons this year? In addition to meeting resolutions related to healthy living, exercise, and less screen time, learning to swim is a great way to boost confidence while keeping kids safer in the water. Step Into Swim can be what you need to get started.
Step Into Swim is an initiative of the Pool & Hot Tub Alliance that aims to create more swimmers. The initiative provides educational resources and learn-to-swim programming to children and their families across the country. By partnering with community organizations, such as local YMCAs, Boys and Girls Clubs, Jewish Community Centers, and more, Step Into Swim is making a difference in drowning prevention.
If you are thinking about taking the plunge in signing up for swim lessons, keep these things in mind.
Learning to swim from a qualified instructor reduces the risk of drowning by 88% among 1- to 4-year-olds.
Swimming is more than a life-saving skill. It empowers children to be confident in the water and can lead to a long-term passion for aquatics, opening the door for sports and career opportunities later in life.
It's easy to find a local learn-to-swim program. Check swimming pools in your area (parks and recreation centers, YMCAs, Boys and Girls Clubs, U.S. Swim Schools Association, etc.) and ask about available learn-to-swim programs by certified instructors.
Learning to swim saves lives, especially for young children in which drowning is a leading cause of death between ages one and four. This is why Step Into Swim feels passionate about gifting swim lessons and has set its own goal to raise $500,000 in 2022. Our industry supporters share in our mission to create more swimmers and to provide families like yours with the educational resources to do so.
Now is the time jump in! What are you waiting for?