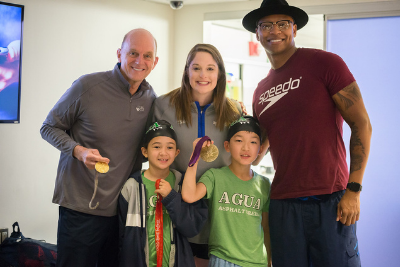 Learning to swim saves lives and empowers children to be confident in the water. National Water Safety Month (NWSM) in May is a great time to keep safety in mind and ensure families have the swim education they need for a safe and enjoyable summer season. Step Into Swim's very own Rowdy Gaines recently talked with The TODAY Show, alongside fellow Olympians Cullen Jones and Cammile Adams, on swim safety tips and best practices. Watch the full segment here.
Unfortunately, drowning rates are on the rise. Learning to swim from a qualified instructor reduces the risk of drowning by 88% among children ages 1 to 4, proving just how important lessons are for our youngest swimmers.
Addressing swimming safety on national TV offers an opportunity to build awareness and education among families across the country. During the live segment, Rowdy, Cullen, Camille and swimmers from Asphalt Green (Benjamin and Esme) demonstrated basic water skills in an Endless Pool on Rockefeller Plaza, including:
Blowing bubbles. Blowing bubbles helps breath control, teaches exhalation and shows the importance of not inhaling water. Mastering a skill like blowing bubbles can help kids build confidence in the water.
Rolling onto your back. The most critical basic drill that most lesson providers teach as a lifesaving skill is floating on your back. This allows kids to catch their breath or call for help if needed.
Safely exiting the water. Once in the water, it is important for kids to know how to get themselves out and be able to reach for the edge of the pool.
For parents who want to learn more about water safety and swimming lesson enrollment, check here to find swimming pools in your area – including local learn-to-swim programs that have received funding from Step Into Swim directly.
There are many national organizations and groups that continue to make pool safety a priority for parents and their families. Thanks to all of the Step Into Swim partners for helping to make swimming education efforts possible, especially Speedo, Endless Pools, Fluidra North America, Hayward Pool Products, Claffey Pools, Premier Pools & Spas, Mill Bergen Pools, Master Pools Guild, Florida Swimming Pool Association, and Northeast Spa & Pool Association.