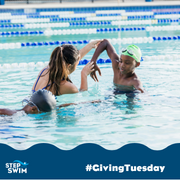 Dear Friends,
As most of you know, I am passionate about water safety for our children. Drowning is the NUMBER ONE cause of unintentional death in children ages 1-4 (number two for those 5-14). I receive Google alerts when a childhood drowning is reported, and I usually get 5-7 per day. It breaks my heart when I read about these tragic stories. But I am telling you we found a cure. SWIM LESSONS. When a child takes formal swim lessons, it reduces that risk of drowning by 88%. Simply put, swim lessons save lives!
I'm so thankful to everyone who stepped up to support the Pool and Hot Tub Alliance's philanthropic initiative Step Into Swim, which offers learn-to-swim grants to children in need.
Because of our generous donors, Step Into Swim has made a difference for families throughout the U.S. and elevated our message about the importance of swim education. PHTA continues to be a swim safety resource and even hosted a special segment on the TODAY Show during National Water Safety Month in May with Olympians Cammile Adams and Cullen Jones. But the greatest accomplishment of the program this year has been providing $750,000 to lesson providers across 43 states, reaching over 20,000 children in need of swimming lessons. There is no doubt in my mind this money will help reduce childhood drowning in the communities who received our grants.
We are just getting started. I hope those who believe in our cause will consider donating at https://www.stepintoswim.org/get-involved/donate/. 100% of donations go directly to learn-to-swim programs to provide children with the lifesaving gift of swim safety. Also, PHTA's Board of Directors has generously matched every dollar raised this year! If you want to learn more, email me at rgaines@phta.org.
Take care all and NEVER take your eyes off your child around the water.
- Rowdy