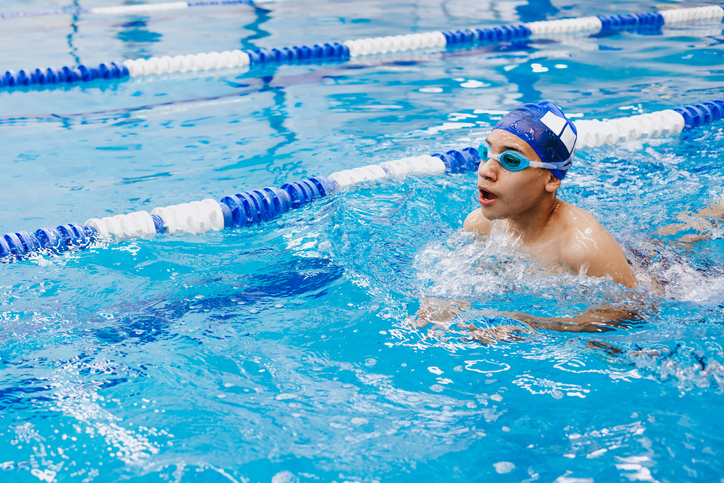 Although many swim during the hot summer months, swimming doesn't have to be a summer season activity. There are added benefits to swimming throughout the year, helping to ensure well-rounded, confident and safe swimmers beyond the summer.
Step Into Swim continues to advocate for swim education and access to swim safety, knowing learning to swim is key in drowning prevention. In fact, learning swim skills is a safety precaution to help keep little ones protected. It's a great stand-alone reason to swim all year long, but there are additional reasons too:
Access indoor swimming pools. No open outdoor pool? No problem. With plenty of indoor swimming pool facilities throughout the country by way of community centers, rec centers and more, access to pools may come easy for those who want to practice swimming more often. Having access to a heated indoor swimming pool is a great way to have fun and relax, but could also offer some reprieve from navigating too-crowded outdoor pools in the height of summer.

Build confidence. Consistency in the water can empower young swimmers to be more confident and strengthen their skills no matter the season. Providing children with the opportunity to get in the water and take formal swim lessons outside of summer may give them the time they need to be ready for water fun in the sun. Learning to swim is a skill, which means it comes with time and repetition. Another added perk? Winter and fall swim classes may not be as full and give your child the flexibility to practice, practice, practice.

Keep skills sharp. Swimming throughout the year is a great way to retain techniques and skills. Just as swimming consistently can help build confidence in the water, it can also help children keep their skills fresh. Swimmers may forget certain skills or techniques with time if not practiced often, but actively swimming can help. Swimming throughout the year is one way experienced swimmers stay competitive for swim teams and meets as well.

Stay healthy. Bad weather can make it hard to get out o bed and be active. But, with resources like indoor pools, it is easy to exercise in the water all year. According to the CDC, just two and a half hours each week of aerobic physical activity, like swimming, can decrease one's risk of chronic illness – making swimming a surefire way to remain active and healthy during the year.

Boost your mood. Swimming can reduce stress, improve mood, boost optimism and enable better sleep. Not only can swimming regularly have positive, long-term impacts on your well-being, but the same can be said about just being near water. Studies show being near water has mental health benefits, what some call the power of 'blue spaces.'
Ultimately, the benefits of swimming don't need to be reserved for May through August. There is no off-season and there are ongoing opportunities to surround yourself and your families with the good things that come from navigating the water safely.