Who Can Donate?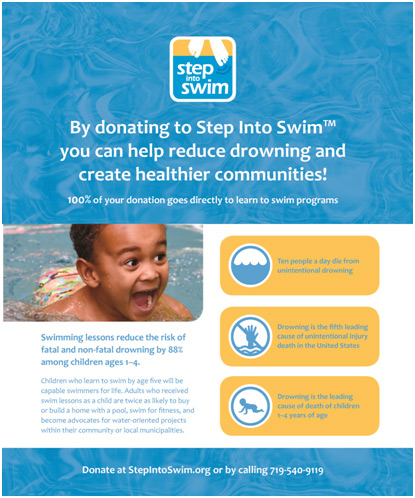 PHTA is asking the assistance of everyone to help. 100% of your donation to Step Into Swim goes directly to learn to swim programs. Whether you are an individual that loves swimming, an aquatic professional, or a company looking to do something positive in the industry - We need YOU to support this important initiative.
What Organizations Will Benefit?
Various organizations in the U.S. that provide swim lessons to children that cannot afford to learn this life-saving skill of swimming because of their economic or cultural standing. Each year, PHTA accepts applications from new or reoccurring organizations. Based on a set criterion, the committee selects organizations that will help contribute to creating 1 million new swimmers.
Corporate Donor Levels
Bronze Level - $5,000
Silver Level - $10,000
Gold Level - $20,000
Platinum Level - $50,000
Diamond Level - $75,000
Individual Donor Levels
Supporter - $500
Friend - $1,000
Advocate - $2,500
For contributions over $75,000, please contact us at phta@phta.org or at (703) 838-0083 at Pool & Hot Tub Alliance to discuss additional benefits and recognition for your company.
To make a donation, please fill out the form below with your credit card information or mail a check made payable to "The Pool & Hot Tub Foundation" with the memo line "Step Into Swim" to:
Pool & Hot Tub Alliance
2111 Eisenhower Ave., Ste. 500
Alexandria, VA 22314